Stress at work, stress at home, sometimes you wish you could go back to being a kid. Just because adulthood isn't always fun, doesn't mean you can't enjoy a comfortable place to rest at the end of the day.
Bean Bag Chairs,
Big and Small
Your toddler loves cartoons and your teenager loves video games. Bean bag chairs have the answer for both. Whether it's a princess themed bean bag chair for your daughter or zoo animal themed chair for your son, bean bag chairs come in all shapes and sizes.
Relax in a Bean Bag Chair
in Your Dorm
College students looking for a comfortable place to relax can find it in bean bags of all shapes and sizes. Large bean bag chairs fit perfectly in dorm rooms and are big enough to accommodate friends and roommates.
Not Just for Kids
For kids, bean bag chairs are fun and different than the average chair. But, kids aren't the only ones who are looking for a fun spot to relax. Bean bag chairs come in all shapes and sizes and plenty of different materials. So, even adults can take a seat in something a little less traditional, too.
Don't Pay Less
for Cheap Chairs
Whether you're a college student or a budget-conscious parent, money is always on your mind. It's easy to overpay and easier to settle for something cheap. Help yourself make the best decision by checking reviews online. Don't settle for disappointment by buying the first bean bag chair you see at Target or on Amazon, put comfort and quality first.
What Makes You
Comfortable?
Kids, teens, and adults are all looking for a comfortable place to sit on movie nights. Tired moms and dads need a rest from chasing the kids around all day. A large bean bag to share with the family or a cozy nook to relax by yourself might be just what your family needs.
Quality Means Comfort
Are you a bargain hunter or do you prefer to pay a little more to get what you want? A good deal and quality material is just what Sofa Sacks provides. The perfect fit for any room, made with care. See how Sofa Sacks stacks up against the competition like the BigOne from Lovesac. Prepare for the ultimate comfy spot for movie watching, book reading, video game playing, and more. Compare our 8 ft Chill Sack to the BigOne from Lovesac and you'll see how we stack up.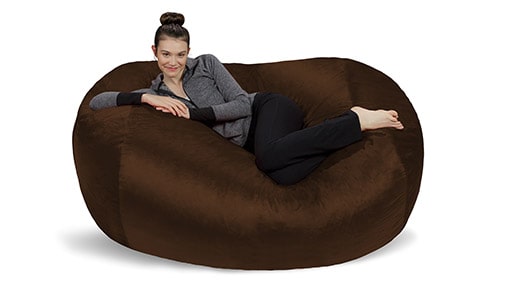 Who Doesn't Want a Big Bean Bag Chair?
We should probably warn you, our bean bag chairs are oversized. They're some of the biggest and definitely better than anything else you can find online or in stores.